Meeting Types
Closed Meeting: Only those with a gambling problem, or those who think they may have a gambling problem, and have a desire to stop gambling, may attend and participate.
Open Meeting: Spouses, family, and friends of the gambler are welcome to attend and observe the meeting.
For more information about a specific meeting, please contact the Gamblers Anonymous Toll-Free Hotline at 1-855-222-5542 (1-855-2-CALL-GA).
Select Your Region for meetings in your area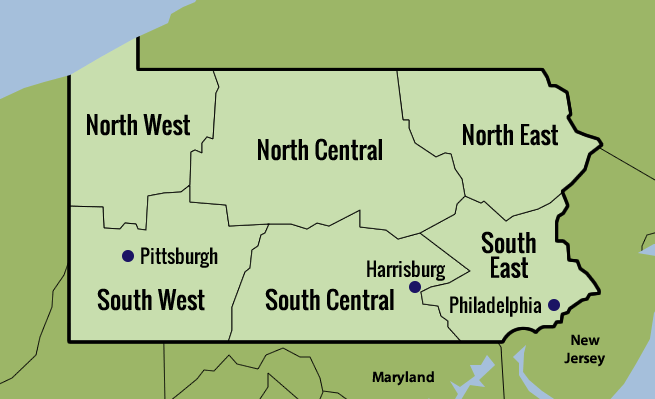 North West
Saturdays
Masonic Temple Building
11:00 AM
32 W. 8th St., 4th Floor
Erie, PA 16501
Open Meeting/Discussion
North Central
Sundays
Bellefonte G.A.
7:30 PM
St. John Lutheran Church
216 N. McAllister Street
Bellefonte, PA 16823
Open Meeting
---
Wednesdays
Williamsport G.A.
6:00 PM
Liberty Church
(Entrance at rear of Church parking)
102 East Third Street
Williamsport, PA 17701
Open Meeting
North East
Mondays
Kingston/Wilkes Barre G.A.
8:00 PM
Nesbitt Medical Arts Building
562 Wyoming Avenue
Kingston, PA 18704
---
Tuesdays
Dunmore G.A.
9:30 AM
United Methodist Church
222 S. Blakely Street
Dunmore, PA 18512
Stroudsburg G.A.
7:30 PM
Stroudsburg Wesleyan Church
Trust & Patience House
535 Avenue 'C'
Stroudsburg, PA 18360
Gam-Anon at same time
---
Wednesdays
Waverly G.A.
7:30 PM
Waverly United Methodist Church
105 Church Street
Waverly, PA 18471
---
Fridays
Sayre G.A.
7:00 PM
Sayre Christian Church
(Side door, downstairs)
427 South Keystone Avenue
Sayre, PA 18840
---
Sundays
Scranton G.A.
5:30 PM
St.Matthew's Evangelical Lutheran Church
425 Jefferson Avenue
Scranton, PA 18510
South West
Mondays
Allison Park G.A.
6:30 PM
Allison Park Assembly of God Church
2326 Duncan Avenue, 2nd floor
Allison Park, PA 15101
(Requires pre-approval for guests to attend)
Parkersburg, WV G.A.
6:30 PM
Westbrook Mental Health
2121 7th Street
Parkersburg, WV 26101
(Next to Kroger's)
Beaver G.A.
7:00 PM
First Presbyterian Church
(kitchen in basement – enter in rear)
252 College Ave.
Room 104
Beaver, PA 15009
Gam-Anon at same time
Greensburg G.A.
7:30 PM
Westmoreland Comp. Counseling Center – Conference Room
(Bldg across from hospital)
532 West Pittsburgh Street
Greensburg, PA 15601
(Requires pre-approval for guests to attend)
---
Tuesdays
Etna G.A.
12:30 PM
Emmanuel Lutheran Church
66 Grant Ave
Etna, PA 15223
Open Meeting
Pittsburgh G.A.
6:30 PM
Church of the Ascension
4792 Ellsworth Avenue
Corner of Ellsworth & Neville
(Entrance on Neville St.)
Pittsburgh, PA 15213
Open Meeting
Dunbar, WV G.A..
7:00 PM
Dunbar United Methodist Church
1401 Myers Street
Dunbar, WV 25064
(Enter through Orange door)
Pittsburgh G.A.
7:30 PM
Baldwin Comm. Methodist Church
5001 Baptist Road
Baptist & Weyman Roads
Pittsburgh, PA 15236
Gam-Anon at same time
Open Meeting
---
Wednesdays
Penn Hills G.A.
7:00 PM
Zion Lutheran Church
11609 Frankstown Rd.
Pittsburgh, PA 15235
Open Meeting
Washington G.A.
7:30 PM
Brownson House
1415 Jefferson Avenue
First Floor
Washington, PA 15301
Gam-Anon at same time
Open Meeting
---
Thursdays
Squirrel Hill G.A.
6:30 PM
Aleph Institute
5804 Beacon St
Pittsburgh, PA 15217
Steubenville, OH G.A.
6:30 PM
Trinity East Hospital
2nd Floor – Room 16
380 Summit Avenue
Steubenville, OH 43952
Beaver Falls G.A.
7:00 PM
Chippewa United Methodist Church
Community Life Center Building
118 McMillen Avenue
Chippewa Township
Beaver Falls, PA 15010
Wexford G.A.
7:00 PM
Thursday Night Hope
St. Alexis Church
10090 Old Perry Hwy.
Hope House
Wexford, PA 15090
Open Meeting
Dunbar, WV G.A.
7:00 PM
Dunbar United Methodist Church
1401 Myers Street
Dunbar, WV 25064
(Enter through Orange door)
Osage, WV G.A.
7:00 PM
Scotts Run Settlement House
41 Ladybug Dr.
Osage, WV 26543
Brookline G.A.
7:30 PM
Elizabeth Seton Center
1900 Pioneer Avenue
Brookline, PA 15226
Step Discussion – Open
---
Saturdays
Pittsburgh G.A.
2:00 PM
Mt. Hope Community Church
12106 Frankstown Road
Pittsburgh, PA 15235
Open Meeting
---
Sundays
Verona G.A.
1:00 PM
St. Joseph's Catholic Church
2nd Street & Center Avenue
Verona, PA 15147
Open Meeting
Wheeling, WV G.A.
7:00 PM
Wheeling Jesuit University
Chapel of Mary and Joseph, Lower Level
316 Washington Ave.
Wheeling, WV 26003
Open Meeting
South Central
Mondays
Harrisburg G.A.
7:00 PM
Trinity Evangelical Lutheran Church
2000 Chestnut Street
Camp Hill, PA 17011
Gam-Anon at same time
---
Thursdays
Harrisburg G.A.
7:00 PM
Trinity Lutheran Church
2000 Chestnut Street
Camp Hill, PA 17011
---
Sundays
Harrisburg G.A.
7:00 PM
St. Catherine Laboure Roman Catholic Church
(Rect Meet Room)
4000 Derry Street
Harrisburg, PA 17111
South East
Mondays
Allentown G.A.
7:30 PM
St. Peter's Evangelical Church
1933 Hanover Avenue
Allentown, PA 18109
Doylestown G.A.
7:30 PM
Doylestown hospital
(Conference Room I)
595 West State Street
Doylestown, PA 18901
Havertown G.A.
7:30 PM
St. James United Church of Christ
100 Myrtle Avenue
Havertown, PA 19083
Philadelphia G.A.
7:00 PM
Belmont Center for Comprehensive Treatment
(enter on Monument Road or Ford Road)
4200 Monument Road
Philadelphia, PA 19131
Bethany Beach, DE
7:00 PM
Saint Martha's Episcopal Church
117 Maplewood St.
Bethany Beach, DE 19930
Wilmington, DE
7:15 PM
Grace Episcopal Church
4900 Concord Pike
Wilmington, DE 19803
---
Tuesdays
East Goshen G.A.
7:30 PM
United Church of Christ
1201 North Chester Road
West Chester, PA 19380
Open Meeting
Langhorne G.A.
7:30 PM
ARIA Health – Bucks County
380 N. Oxford Valley Road
Langhorne, PA 19047
Gam-Anon at same time
Lansdale G.A.
7:00 PM
Lansdale United Methodist Church
(enter through red double doors in the rear of the building)
300 N. Broad Street
Lansdale, PA 19446
Open meeting
South Philadelphia G.A.
7:00 PM
Methodist Hospital
(Downstairs Conference Room)
2301 S. Broad St.
Philadelphia, PA 19148
Reading G.A.
7:30 PM
United Church of Christ
4870 Kutztown Road
Temple, PA 19560
Gam-Anon at same time
Roxborough G.A.
7:15 PM
St. Timothy Episcopal Church
5720 Ridge Avenue
Philadelphia, PA 19128
Lancaster G.A.
7:30 PM
Calvary Church (use West Entrance)
1051 Landis Valley Road
Lancaster, PA 17601
Gam-Anon at same time
Wilmington, DE
10:00 AM
Grace Episcopal Church
4900 Concord Pike
Wilmington, DE 19803
Open Meeting
Dover, DE
6:30 PM
St. Nicholas Orthodox Church
870 Forrest Street
Dover, DE 19904
---
Wednesdays
Ephrata G.A.
7:30 PM
Ephrata Church of the Brethren
201 Crescent Ave
Ephrata, PA 17522
Gam-Anon at same time
Media G.A.
7:00 PM
1st United Methodist Church
(rear entrance of school building)
350 W State Street
Media, PA 19063
Norristown G.A.
7:15 PM
Valley Forge Medical Center
(park in first driveway on the left)
1033 West Germantown Pike
Norristown, PA 19043
NE Philadelphia G.A.
7:00 PM
St. Jerome's Roman Catholic Church
Holme Ave. & Stamford Street
Philadelphia, PA 19136
Gam-Anon at same time
Willow Grove G.A.
7:00 PM
St. David Roman Catholic Church
316 N. Easton Rd
Willow Grove, PA 19090
Stanton, DE
7:30 PM
St. Mark's United Methodist Church
1700 Limestone Road
Stanton, DE 19804
Gam-Anon at same time
*No Gam-Non on 1st Wednesday of the month
Philadelphia, PA – Kensington
11:00 AM
The Salvation Army
1920 East Allegheny Ave.
Philadelphia, PA 19134
---
Thursdays
Plymouth Meeting, G.A.
7:30 PM
Church on the Mall
Plymouth Meeting Hall,
Conf. Rm #3
500 W Germantown Pike
Plymouth Meeting, PA 19462
(the church is located in the mall)
Bethlehem G.A.
7:30 PM
Salvation Army
521 Pembroke Rd.
Bethlehem, PA 18018
Gam-Anon at same time
Collegeville/Trappe Area G.A.
7:30 PM
St. Lukes Church of Christ
200 Main Street
Collegeville, PA 19426
Philadelphia G.A.
7:30 PM
Methodist Hospital
(Downstairs Conference Room)
2301 S. Broad St.
Philadelphia, PA 19148
Langhorne, PA
7:00 PM
Livengrin Counseling Center
195 Bristol Oxford Valley Rd.
Langhorne, PA 19047
Step Meeting
Wilmington, DE
7:00 PM
Grace Episcopal Church
4900 Concord Pike
Wilmington, DE 19803
---
Fridays
NE Philadelphia, PA
7:00 pm
Livengrin Counseling Center
Northeast Philadelphia
9140 Academy Road
Philadelphia, PA 19114
Open Meeting / Step Meeting
Broomall G.A.
7:30 PM
St. Pius X Church
220 Lawrence Rd (side church entrance)
Broomall, PA 19008
Gam-Anon at same time
Philadelphia G.A.
7:00 PM
Nazareth Hospital – Marian Hall
(First Floor Conference Room)
2601 Holme Ave.
Philadelphia, PA 19152
Stanton, DE
7:00 PM
St. Mark's United Methodist Church
1700 Limestone Road
Stanton, DE 19804
---
Saturdays
Bethlehem, G.A.
(Morning Meeting)
11:00 AM
St. Luke's Hospital
Education Building,
Room 105
801 Ostrum Street
Bethlehem, PA 18015
Open Meeting
Philadelphia, G.A.
10:00 AM
Feltonville Recreation Center
Ella St. side entrance / lower level)
221 E. Wyoming Avenue
Philadelphia, PA 19120
Wilmington, DE
10:15 AM
Grace Episcopal Church
4900 Concord Pike
Wilmington, DE 19803
---
Sundays
Philadelphia G.A.
12 PM
Methodist Hospital
(Downstairs Conference Room)
2301 S. Broad St.
Philadelphia, PA 19148
Philadelphia G.A.
7:00 PM
Nazareth Hospital – Marian Hall
(First Floor Conference Room)
2601 Holme Ave.
Philadelphia, PA 19152
Gam-Anon at same time & Location
Reading G.A.
7:30 PM
United Church of Christ
4870 Kutztown Rd
Temple, PA 19560
Newark, DE
7:30 PM
1st Presbyterian Church – Westminster House
292 W. Main Street (Rte. 273)
Newark, DE 19711